Current COVID Vaccination and Mask Policies
August 2023 and forward
To protect our guests, we have been fully vaccinated and "boosted" against COVID-19, through the Omicron version. We are happy to provide a photo of our vaccination cards upon request.
As the disease still moves among us, we continue to recommend that all guests be fully vaccinated and have received at least one booster shot.
However, in keeping with current travel policies in the industry, we no longer require proof of a guest's status in that respect.
Mask policy remains in flux everywhere. Please feel free to mask if you are most comfortable that way, and request that we do so as well. We will adjust our masking requests to fit the
Covid conditions and the New Mexico state guidelines that may be in place at the time of your visit. Be aware that the state and the city of Socorro are highly compliant with health department recommendations.
Please contact us for any updates to these policies as time goes on and Covid conditions change (for good or ill). Thank you for your understanding of our desire to keep all of us safe.
Rates: $150 + tax per night, single or double occupancy. $15 for any addtional person over the age of 6. An additional single bed can be arranged for either casita.

City and state taxes of 14.5% currently are additional.

Reservations are made by credit card; PAYMENT IS REQUESTED BY CASH OR CHECK AT THE TIME OF YOUR STAY.

RESERVATIONS IN NOVEMBER, DECEMBER, AND JANUARY REQUIRE A 2 NIGHT MINIMUM.

Rates include free wifi, afternoon tea and cookies, in-room coffee on request, breakfast, and an early bird hot drink and snack before dawn on request.

No pets, other than service dogs.

No smoking other than in your courtyard.

Check in time 2-8 p.m. or by arrangement.

Check out no later than 11 a.m. or by arrangement.

CANCELLATION: During the peak months of November through January, please notify us of a change in plans at least one week in advance, so that other guests may be accommodated. Any other time of year, 48 hours is sufficient.

PARKING Please park either directly in front of my "Dos Casitas" sign, or directly across the street.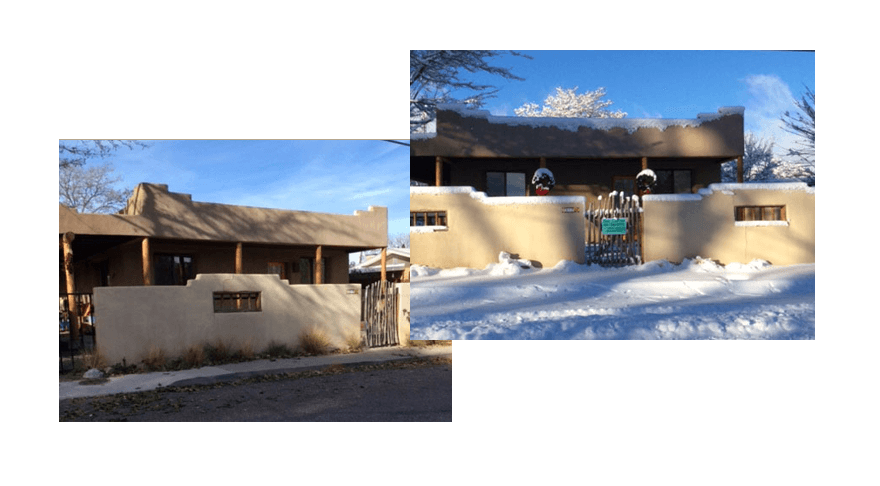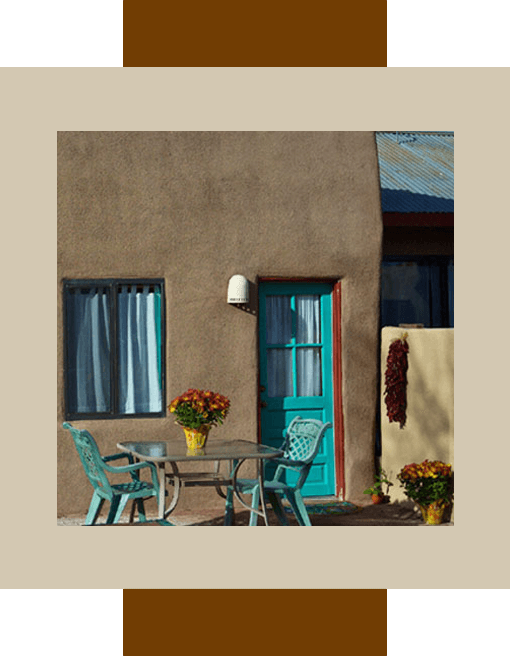 Driving Directions
Directions to Dos Casitas en Socorro Bed and Breakfast:
When approaching Socorro on I-25, exit at Exit 150 north of town or Exit 147 on the south and proceed on California St. to McCutcheon Ave. , which is close to the south end of town. Look for a blue and white "person reading" icon sign, in addition to a very ORANGE Jacalito Taqueria shed on the west. Turn west on McCutcheon toward the mountain and continue through two stop signs to the end of McCutcheon-- a wall and Eaton Ave. Dos Casitas is the first house to the north (right) on the west side of Eaton, # 317, (which is on a small fancy tile on the wall). There is also a blue, lighted sign set into the wall in a niche, that says "Dos Casitas en Socorro BnB." Either park across the street from that sign, or pull a u-turn (not in my neighbor's driveway, please!) and park in front of the sign. By the time you have done this, my Trusty Watchdog, Tino, will have alerted me to your presence (most likely), and I will meet you on the front porch. If he fails in his task, knock loudly on the front door.
If you get turned around, give me a call and I'll guide you in! (575) 835-2858 (Note: GPS takes you a somewhat different way, but gets you to the right place eventually.)